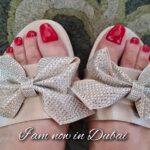 I am in Dubai until 25 July
July 20, 2023
My travel to Dubai was very successful. Mauritius was very beautiful, but the sessions did not work out because I could not find the right, discrete location for My sessions. Oh well, I fully enjoyed the holidays on this lovely island.
It was a very special experience to find myself so far from Europe as a "little spot" in the middle of the ocean, surrounded by big waves.
Now I am in Warsaw, where I enjoy a fetish scene and parties.

I plan to travel to Amsterdam, where I will hold sessions in the western part of the city between October 17 and 24.
I hope to enjoy myself and be pampered.


Ik kijk vooruit aan mij bezoek aan Nederland, mij slaafjes te zien en de leuke sessies.
Ik sta natuurlijk ook open om lekker uit eten te gaan. Ik mis Indonesische reis tafel en Teppanyaki (Sazanka) bij een heerlijk wijntje en leuk ambiance.
Ik zie jullie gauw!

Meesteres Dinah
The pictures that are added to this post were made at the Fetish Chateau in Warsaw.